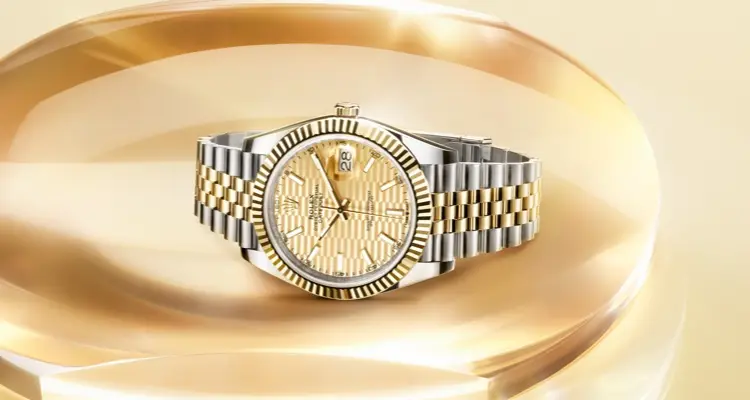 A milestone in watchmaking history, the Oyster Perpetual Datejust was the first self-winding waterproof chronometer wristwatch to display the date in a window at 3 o'clock on the dial. These numbers are a reminder that though 24 hours mark a day, it's on us to make those a date to remember.
"IT IS A MASTERPIECE OF HOROLOGICAL SCIENCE. IT IS, IN FACT, A SYNTHESIS OF ALL THAT HAS BEEN ACHIEVED UP TO THE PRESENT DAY."
Hans Wilsdorf, 1945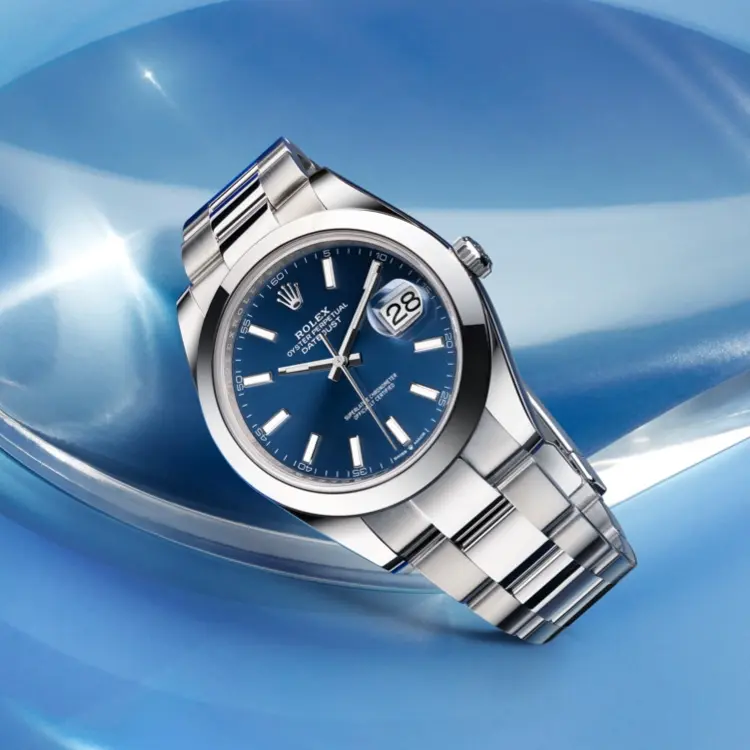 The perfect embodiment of the classic Rolex watch, the Datejust, launched in 1945, showcased all the major accomplishments developed to that point by the brand. It thus echoed the quest for excellence of Rolex founder Hans Wilsdorf who believed that watchmaking progress should encourage human progress. In a period of great change, people's relationship with time was shifting. Modern life moved to the rhythm of the passing days and was less connected to the seasons. The Datejust offers enhanced comfort in terms of legibility and daily time management.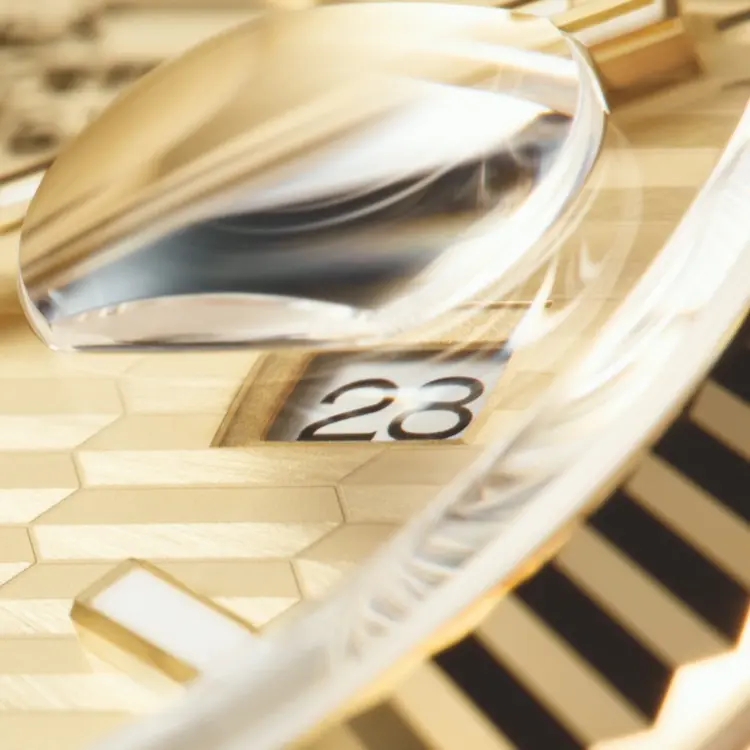 THE CYCLOPS LENS: AN OPTIMIZED READING
Created to improve the legibility of the date, the Cyclops lens is both an aesthetic and a technical brand signature. This Rolex invention was patented in the early 1950s and presented for the first time in 1953 on a Datejust. Its magnifying effect makes the date easier to read. Initially in plexiglass, it has been crafted in sapphire since the 1970s, like the watch's crystal.
THE JUBILEE BRACELET: COMFORT AND ELEGANCE
Celebrating the 40th anniversary of Rolex in 1945, the Jubilee bracelet was specially designed for the Datejust. This fluid and comfortable five-piece link metal bracelet is integral to the Datejust's identity and enhances the timeless elegance of the model. The Datejust is also available with an Oyster bracelet or, on precious metal versions, a President bracelet.
A CONTINUALLY UPDATED WATCHMAKING ICON
The Datejust is constantly reinventing itself. Its varied reinterpretations express and showcase Rolex's expertise in dial-making. Featuring smooth, domed, fluted or diamond-set bezels, the Datejust has stylishly spanned eras while perfectly adapting to the personality of its wearers.
CELEBRATING DATES WITH DESTINY
The Datejust has naturally become the watch of our dates with destiny. Day after day, its dial marks a meeting point between the personal course of each wearer and the passing of time. Seen on the wrists of such major figures as Winston Churchill, Dwight D. Eisenhower and Martin Luther King, the Datejust has spanned eras without ever losing its modern touch.
Among the Rolex Testimonees associated with the Datejust, we celebrate Swiss tennis legend Roger Federer, Polish tennis player Iga Świątek, Swiss skier Lara Gut-Behrami and Canadian singer Michael Bublé.
Visit us to discover first-hand the Datejust
As an Official Retailer, we are the only retailers allowed to sell Rolex watches. With the necessary skills and technical know-how, we will help you make the choice of a lifetime.